Scout 20:25, September 14, 2015 (UTC)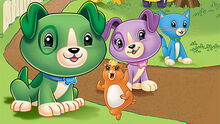 Meet Scout and his friends, Violet, Eli, and Penny...best friends who have all kinds of learning adventures along with their magical toy car, Axle. The friends are engaged in a hot game of "That sound is..." when they learn that the new Phonics Farm is opening in their town today! Intrigued as to what phonics there might be, they hurry off to the farm. At the farm they find Alligator and Horse struggling to get the areas completed in time for the Opening Day Gala and the farm owner, Seal, in full panic mode. Together the friends use their vocabulary skills to unlock the clues and help Alligator and Horse complete all the areas in the nick of time!
Scout and his friends learn about phonics as they prepare for the opening gala.
CharactersEdit
   Scout
   Violet
    Eli
    Penny
Major charactersEdit
    The vowels (cameo)
    Athletic alligator
Horse
Sad Seal     Seal
   Axle (cameo)
Scout and friends are at the opening granding gallery.
RUN TIME: 35 MINUTES
If you wish to visit the gallery, click here!
Athletic Alligator's pants are brown.
At the end, High-Piched Horse turns green.
High-Pitched Horse's mouth slides off her face.