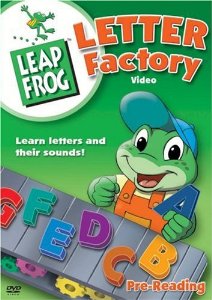 Join Leap and his friends as they learn letter sounds with the help of some amazing machines! Leap, Tad, Lily and Scout long to learn about new machines. When their magical work building, Factory, leads them into a room, they discover a remarkable alphabet collection and an ABC antics ensue! As the friends shape up letters with a blender, fix a malfunctioning machine, make words with an airplane convenyor belt, and more, they make way through the entire alphabet!
Join Leap, Tad, Lily and Scout as they learn about letters.
Letter Rooms
Edit
A - Wooga
B - Beethoven
C - Cold
D - Drumming
E - Ear
F - Flying
G - Gym weighting
H - Hawaiian
I - Icky
J - Jumping
K - Karate Kick
L - Lollipop
M - Food Munching
N - Mosquito
O - Safari
P - Popcorn
Q - Quack
R - Racing
S - Snake
T - Toe Tapping
U - Umbrella
V - Vibrate
W - Rap W Song
X - X-ray
Y - Cheerleader
Z - Sleeping
Characters
Edit
Tad
Lily
Leap
Mr. Frog
Mrs. Frog
Mr. Websley
Professor Quigley
Scout
Factory
Residents
Major Characters
Edit
Treadmill (speaking cameo; 2 cameos)
All machines (cameo)
The very first Leapfrog DVD
RUN TIME: 31 MINUTES
The letter Factory/Gallery
Ad blocker interference detected!
Wikia is a free-to-use site that makes money from advertising. We have a modified experience for viewers using ad blockers

Wikia is not accessible if you've made further modifications. Remove the custom ad blocker rule(s) and the page will load as expected.